---
NO FALL IS SUDDEN
---
Did you know prior to you falling into sin you engage in a cycle, entering into a progressive sequence of snares presented to seduce you into slips that eventually bring you to a fall? Did you know that there's a difference between falling and being fallen? Did you know it's possible to avoid a fall, even if you catch yourself slipping you can stop it?
In this short video message by Dr. Matthew Stevenson III, you will discover all these things and a lot more, as he unravels The Anatomy of a Fall! This message was inspired by Dr. Stevenson sensing many were approaching a fall, in the midst of a fall, or currently falling, but trying to get out. This message is beyond timely. In a time of transition and promotion, sin would love to do nothing more than cause us to stumble.
Everyone has fallen and while it is possible to avoid it, sin seeks to do something far more sinister than just tripping you up or temporarily setting you back. Sin brings nothing but death and aims to destroy (Romans 6:23, James 1:15). So why would any of us want to fall and remain in this state?
Well, this is where the deception comes in. Even though the process of a fall is gradual, can easily be identified, stopped and corrected, deception's destructive nature is much more subtle. Dr. Stevenson likens deception's kill tactic to that of a "drip feeder," dropping a bit of its influence here and there until the falling exchange the truth for a lie, becoming the fallen.

---
5 SIGNS YOU'RE ABOUT TO FALL
---
According to Dr. Stevenson "secrecy is the culture that sin is bred in" and "the strength of sin is secrecy." As you move towards a fall, you will become increasingly comfortable with keeping secrets.
Dr. Stevenson makes very clear that "isolation is a sign of a fall" and is not to be confused with "quality alone time." In his words, "there is power in quality alone time, but on your way to a fall you will notice that a desire to pull away from healthy and godly relationships is going to be next to follow."
A Gravitation Towards People with the Same Weakness
As you approach an imminent fall, you will find yourself abandoning righteous relationships in exchange for those that will support the fall. Satan begins to stock your circle with people who host your weaknesses, changing interests, and questionable agendas.
A Budding Distance Between You and God
Dr. Stevenson says, on a way to a fall Christians tend to distance themselves from God, adding: "in order to fall you must lose ground in your walk with God." While he maintains we don't look to do this, it's as if in a subconscious effort you pull away to "brace yourself" from disappointing Him.
Pride is the final step of a fall and as Dr. Stevenson describes it is the "exclamation point" in this process. Pride leads you to be more sensitive to being examined, questioned, and critiqued. It is "Satan's way of keeping you away from truth," thus acting as a "shield" holding "this destructive process together."
---
THE FALLING AND THE FALLEN
---
If you find yourself in any of these five places you can turn around. How? Choose to do what you failed to do initially. Interrupt the process and regain your footing. As mentioned earlier, the state of falling and the fallen are completely difference. Deception moves in after your fall to lock you into a fallen state.
Pride brings you to a fall, but deception locks you in. 
So the final symptom of a fall is deception. Deception is simply exchanging the truth for a lie and this traps people in their fallen state.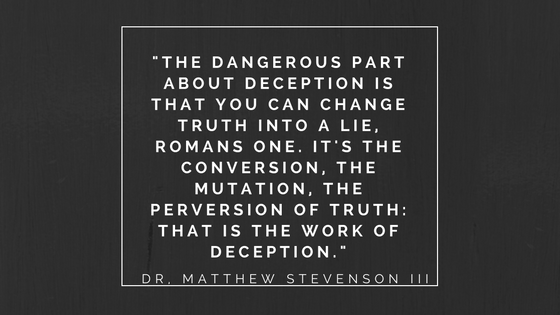 ---
NOW UNTO HIM…
---
 Now unto him that is able to keep you from falling, and to present you faultless before the presence of his glory with exceeding joy, To the only wise God our Saviour, be glory and majesty, dominion and power, both now and ever. Amen.
You don't have to fall. God is more than able to keep you from falling and if you are falling, you don't have to stay there. If you feel stuck or you need help getting out, just watch this…
---
SCRIPTURE REFERENCE
---
A man who isolates himself seeks his own desire;
He rages against all wise judgment.
Proverbs 18:1 NKJV
Pride goes before destruction,
And a haughty spirit before a fall.
Proverbs 16:18 NKJV
---
Streamed Live: 12.1.16 | Watch Time: 24:13 Minutes
---
FOLLOW APOSTLE STEVENSON ON SOCIAL MEDIA!!!
Dr. Matthew Stevenson III is the founder, senior leader, and co-laborer, alongside his wife Dr. Kamilah Stevenson, of All Nations Worship Assembly of Chicago, IL. He is also the Apostolic Overseer of The G.A.T.E. Network which presently oversees 60 + churches worldwide.
Facebook: Dr. Matthew L. Stevenson III
Periscope: DrMatthewStevenson
Instagram: Dr.MatthewStevenson
Website: ALLNATIONSWA.COM 
---
Featured Image Photo Credit: Pixabay/Pexels
---