---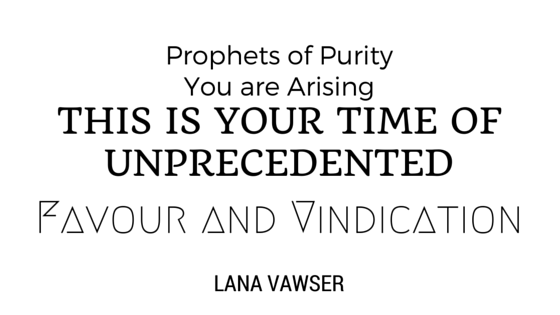 ---
Released: June 2, 2016 on LANAVAWSER.COM
---
The Lord is raising up prophets of purity in this hour. These prophets have been through the fire, they have been tested and they have been tried. These prophets have been in the place of deep intimacy with the Father and have heard His secrets and seen what He is dreaming about.
These prophets in the past few months have been under more attack and fire than they have ever experienced. There has been trial after trial after trial for many of these prophets and many of them have felt alone and isolated because of the level of opposition they have been facing.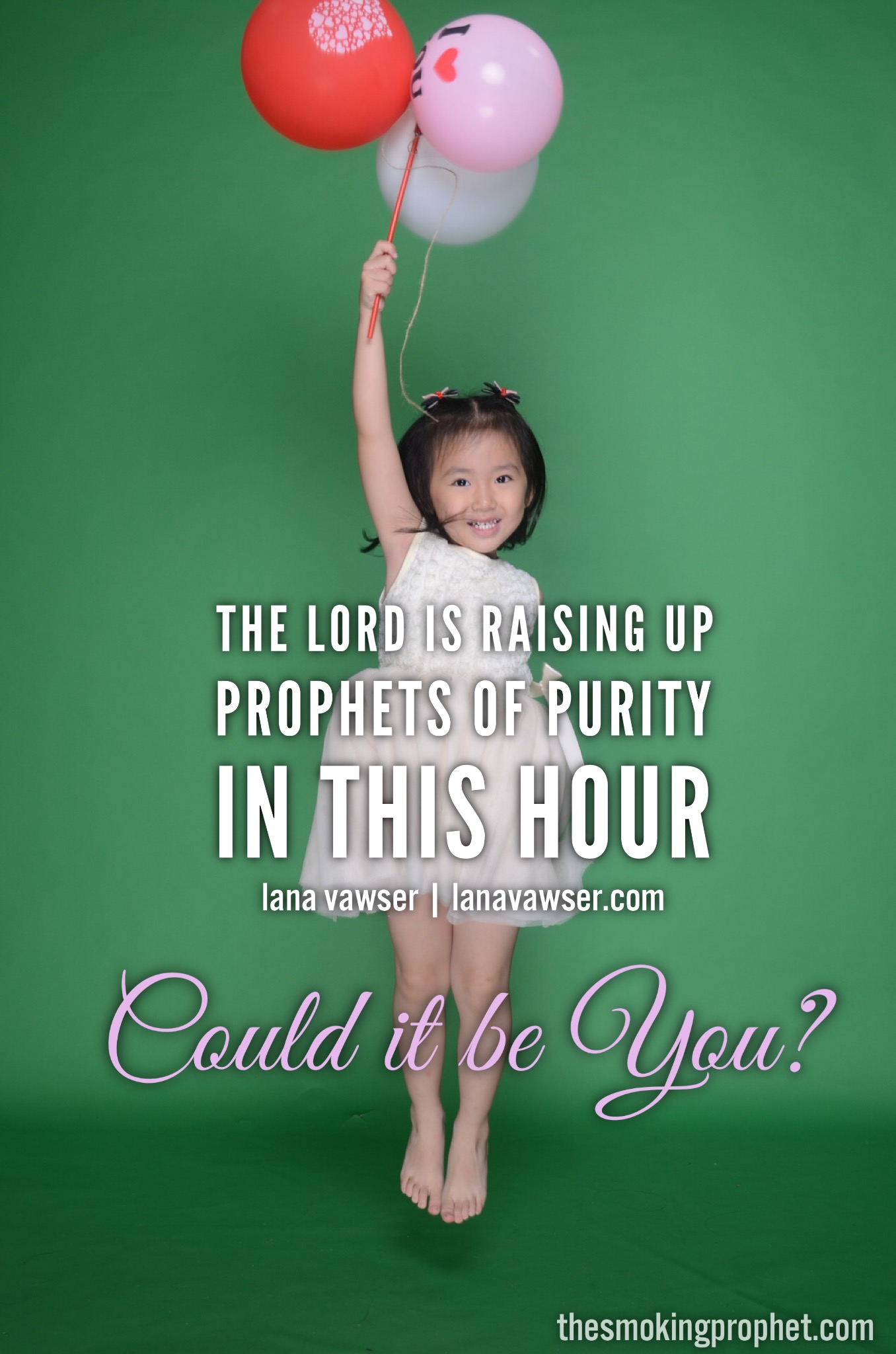 The enemy has really been trying to kill off these prophets in the last few months. There has been a heavy spirit of dread and fear that has come against these prophets because in this season, the Lord is rising up the prophets of purity.
He has been working deeply on their hearts and burning away impure motives, self promotion, competition and striving. These ones have been wrestling in the spirit more than they ever have before and many of them have been questioning what they have done wrong, where they have missed their step.
I felt the Lord saying today "You have not missed your step, but the uncomfortable, restless feeling that you are feeling, is the feeling of transition. It is the feeling of going to another level. You are discerning the rumbling in the atmosphere between Me stretching you and extending you to carry more and the enemy pushing hard against you because you are going to another level. Prophets of purity you have paid the price to know Me, and keep Me as your first love. 
Even when there have been temptations to rush ahead, or to step into 'ways' of doing things that is not the way I have asked you to, or move in a direction that is different to where I am leading, you have quickly run back to My heart. Prophets of purity, you have been purged, you have been pruned, you have been purified by the fire and now you are meeting your next level of PROMOTION. What I am going to entrust you with My purity prophets in this promotion that is about to take place is going to be far more than you could have ever imagined. It is going to be bigger than you have ever thought. The responsibility is going to 'feel heavier' than you have ever experienced before, but YOU ARE READY! I have prepared you for such a time as this and in order to CARRY what I am releasing upon you, you MUST go deeper. There MUST be a deeper plunging into the secret place with Me and there you will find the grace to carry these new doors of extravagant favour. I am taking you deeper, higher and wider than you have ever been because I can TRUST YOU! You have proven yourselves trustworthy in the fire, in the trial, in the opposition, you have kept your hearts pure and you have been releasing the uncontaminated pure prophetic flow of My heart despite the stones thrown at you by the enemy and others. There is great reward upon you My purity prophets. You are about to release a pure move of My Spirit into the body of Christ that has not been seen before. A move of My Spirit that is going to look different than what has been seen but every part of this move is birthing LIFE. It is birthing FRESHNESS, HEALING, BREAKTHROUGH, FREEDOM and the SONGS of a NEW DAY!!!!! My purity prophets, you are about to be entrusted with MUCH. You are about to be positioned before kings and queens and opportunities of favour that you have never thought of, but know as you STEP THROUGH that you have the messages in your heart that I have given you. As you speak, as you release, you shall see HEAVEN invade earth and a move of My Spirit that will leave you undone. It's time! It's time for My purity prophets to arise."
JEALOUSY AND CRITICISM WILL COME BUT YOU WILL BE VINDICATED
"As I am positioning you now My purity prophets, I am positioning you in places that the "older brothers" feel they deserve and there will be much jealousy and criticism that will come against you. There will be fiery darts, but KNOW that you will be VINDICATED. My favour and provision will be with you in EXTRAVAGANT ways. My favour and provision will be DEMONSTRATED OVER YOUR LIVES from one corner of the earth to the other. You will NOT be overcome. You will NOT be overcome. You will continue to survive, you will continue to thrive. You will find MORE life in Me in this season as you press deeper in My heart, even though the battle of jealousy and criticism rages around you, you will know PEACE like you have never known. You will know JOY like you have never known and you will know a supernatural move of My Spirit in and through your life in EXPONENTIAL WAYS. CONFIRMATIONS will FOLLOW your words in SUPERNATURAL WAYS. The NATURAL ways of the WORLD will CONFIRM My words through you. Watch the newspapers, television, radios, songs, people of great favour, high level businesses, advertising CONFIRM My words through you ALL AROUND!!!!!! Where others have laughed at you and mocked you for what you have spoken from My heart, I shall TESTIFY My VINDICATION over you in LOUD ways!! "
"There will be a TEST for you in this promotion My purity prophets. The TEST will be in following the leading of My Spirit in ALL THINGS. In not going back to "how things were done before" or "how things are expected" but to be following SOLELY the leading of My Spirit. The favour and positioning in this season will test your heart, but KNOW that all the time I have prepared your character and integrity and taking your roots deep into My love is going to keep you SECURE and FOUNDED through this ACCELERATED promotion. It's time! It's time! It's time! It's time for My purity prophets to arise!!!!!"
NOW, NOW, NOW, NOW THE INTIMIDATION WILL BOW
"Intimidation has come against you fiercely My purity prophets. In the past few months the battle of against fear and intimidation has been SO bad and that is because these giants are about to BOW NOW! They are about to be overcome. Where they have screamed at you "CONTAINED COWARD", I am ROARING over you "COURAGEOUS CHILD!!!" I am TURNING the tables on the enemy. Where he has continued to do all he can to keep you contained, I am now empowering you with My Spirit in a ENCOUNTERS WITH MY POWER where I will ROAR over you and COURAGE will SUDDENLY be birthed. Where the enemy has attempted to keep you hidden My purity prophets, and keep you in the 'safe zone' which is a lie, (the safest place is where I am calling you to be), you are now SUDDENLY going to be INFUSED with My courage and not only FLY OUT of the comfort zones and hidden places that have kept you contained but by the leading of My Spirit you are going to PUSH PAST LIMITS and move into RISK in new levels. A whole new level of FAITH is opening up for you in the FAVOURED PLACES! You will believe and contend for great things, a new revelation of My Word opening up and you will not only see SUDDEN BREAKTHROUGH but a SYNERGY of SIGNS AND WONDERS."
"Many of you My purity prophets have been facing "dread" and "false prophecies and reports" masked to look like Me. The FRUIT of My voice is PEACE. I am about to bring a shaking to al these 'dread and false prophecies' that have been masked to "look like Me" and they will be CLEARLY SEEN for what they are. These "false prophecies" have been sent to you from the enemy to LOOK LIKE ME to usher in CONFUSION and STEAL YOUR CLARITY and that's EXACTLY what they have done. I am BREAKING the confusion and I am ADDING CLARITY to you! Where the enemy has hit you hard with this confusion and left you spinning, I am RELEASING UPON YOU PINPOINT ACCURACY!!!!!!! PINPOINT ACCURACY TO SEE THE ENEMY PINNED!!! You are about to PIN the enemy My purity prophets by the ACCURACY of the words that you will release through My heart and see his very attacks turned AGAINST him and the enemy himself will be SENT INTO CONFUSION!!!!"
"My purity prophets, your greatest victories are upon you! Life is about to suddenly change from glory to glory! Strength to strength! Where you have been battling in the dark, and the pain and struggle none can understand, you are now moving into the BRIGHT OF DAY to see JOY and PEACE, PROVISION and VICTORY in tangible ways. My FAVOUR over you will leave you FLOORED!!!!"
---
Content was reposted with permission from LANAVAWSER.COM |
---
CONNECT WITH PROPHET LANA VAWSER BELOW:
---
FACEBOOK: LANA VAWSER 
SUBSCRIBE: http://lanavawser.com/subscription/
SOW: http://lanavawser.com/sowing/
---
Featured Image Photo Credit: Flickr/StuffEyeSee
---